Leather is one of the upholstery choices in the furniture industries and there is wide use of leather sofa for good outlook. The reason for this is its buttery feeling, easy in maintenance and durability. But the great confusion arises about the choosing the right choice that fit your requirement. Here we will introduce to vast ranges of leather which are good but different in their own way. But before that have a look about leather.
The leather is a type of material obtained from tanned hides of cattle. The process of tanning is different in different places.
There are wrinkles, creases, scars and variation of colour in this natural material. All these factors represent a unique appeal and character of the material. The rustic look is not always a point of consideration, a consistent look with the modern outfit is another point of importance. This point is utmost important in Leather sofa.
Real Leather always:
Our belief is only about reality. Our core value is about being better. We don't compromise in the case of the quality factor. Also, we offer non-animal-based upholstery options for leather sofa set.
What about the leather?
There are different types of leathers and this creates confusion also. There are a lot of questions before making of leather sofa like what does aniline mean? What does grain in leather means? Keep yourself continue in reading as we will disclose everything here.
Grain in terms of leather is a top layer which contains natural variation and all other beauty. There are unique markings in the full grain leather. These types of marking are insect bites, sun spots, stretch marks etc. With the age and use, there is the development of warm sheen known as patina. With this sofa get the vintage look with comfort.
There is a sanding process that vanishes out all the natural variation in order to create leather that is less varied.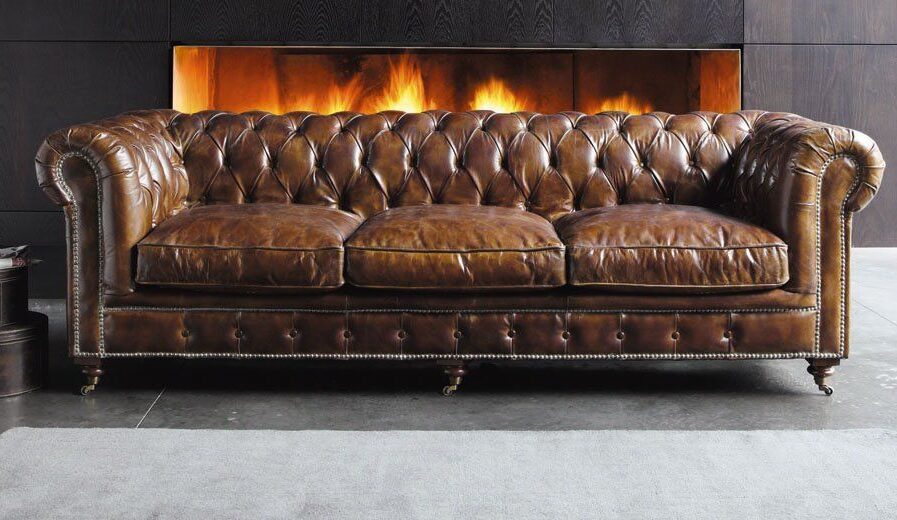 Types of Leather:
Aniline Leather:
It is a dying process that goes after tanning. There are two types of aniline, one is full-aniline and another is semi-aniline.
A full-aniline hide has been dyed carefully so that all the beauty, natural markings, and variation in colour retained.
In the case of semi-aniline hide, there is the use of thin layer wax which is applied before the dying process. This wax is for ensuring that the dye is absorbed uniformly. Top grain and semi-aniline go hand in hand. They produce leather which is more consistent in colour.
Oxford Leather
With a slightly mottled effect, it is top-grain and semi-aniline leather. The texture and wrinkle are clearly visible and the texture is semi-matte. This kind of leather for leather sofa set is a great option for your home. The extra layer of the protective wax for the stain insurance.
Charme Leather:
It is highly variable in terms of natural marking, texture, and tone and also it is full aniline and full grain. Every sofa made with this leather is unique. Any type of scratch from fingernail can add to its character.
Dakota Leather:
It is semi-aniline and top-grain leather which is a most matte option. Due to two dying process, it is having beautiful layered colouring. Due to good standing, it provides a worn effect. Additionally, it is durable due to its top-gain status that means it will be waxed sealed.
Rawhide Leather:
It is thick full-aniline and full-grain and it is finished with a paraffin wax. Due to this reason, it is leaving out the soft surface with rich finishing when implementing leather sofa. With the fingernail, it can be easily marked. With those marks, a wonderful patina can be created and that too in a short period of time.
Sedona Leather:
It is also full-grain and full-aniline leather with and it is most convenient for those who look for a luxury feel in the leather sofa set. This type of leather is mainly obtained from bull hides. It is because bull hides are thick with a fuller finish. This type of leather is suitable for any room.
Maintenance of Leather Sofa Set:
Remember that everything needs maintenance and the same logic applies to leather also. Due to the wax coating a grey film. This wax gets to absorb and get soften into that rich patina.
Wipe down with a leather conditioner is the best way to keep the leather looking young and shine. The use of chemical, detergent and other polishes should be avoided. Once in a week simply wipe with a clean cloth to remove noticeable stains.
So this is all about the Leather furniture and its type which are considered in leather sofa. Kindly share your views in the below comment box.